Leaders in corporate management, architecture, broadcasting and the arts have been elected to the Lawrence University Board of Trustees.
Laura Kohler, Ron McCoy, Terry Moran and Garth Neustadter begin three-year terms and will participate in their first board meeting Oct. 29-31.
Neustadter is the university's first Recent Graduate Trustee, a newly established position exclusively for Lawrence alumni within 2-10 years of graduation. He will serve one non-renewable term.
"The momentum at Lawrence right now is great and this also applies to our Board of Trustees," said Board Chair Terry Franke, a 1968 Lawrence graduate. "We are excited to welcome four new board members who have a wide range of experiences. We are extremely pleased that each agreed to give their time and talent to Lawrence. They bring perspectives that will expand the breadth and depth of our board. Two are Lawrence alumni and two have degrees from other institutions. With the unprecedented and non-traditional challenges facing higher education today, it is critical to have a board with diversity of ideas and experience."
Laura Kohler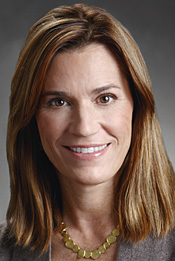 Kohler is senior vice president-human resources for Kohler Co. and a member of the company's board of directors. She becomes a third generation member of the Kohler family to serve as a Lawrence trustee. Her father, Herbert V. Kohler Jr., served from 1974-2002, at which time he was elected an emeriti trustee. Her grandmother, Ruth Miriam DeYoung Kohler, served from 1945-53.
Kohler oversees global talent management, compensation and benefit programs, learning, organizational development and diversity with additional responsibilities for labor relations and security for the company.
She also leads Kohler Stewardship, the company's global corporate social responsibility program, which drives ethics, respectful workplace, engagement, sustainability, community partnerships and associate giving.
Kohler began her career with the company in 1995 as director-public affairs and was appointed vice president of communications in 1998. The following year she was named vice president of human resources and elected to the Kohler Co.'s board of directors. She was promoted to senior vice president of human resources in 2002. Prior to joining Kohler Co., she spent two years as executive director of the Kohler Foundation, Inc., for which she is still a board member.
She is engaged in numerous leadership roles outside the company. She is a member of the advisory board of the Center for Global Business Studies for the Graduate School of Business at Pennsylvania State University; serves as the board secretary, HR committee chair and an executive committee member of the John Michael Kohler Arts Center; and is chair of the Kohler Trust for Arts and Education and the Kohler Trust for Preservation.
She is a director of Friendship House, a group home for at-risk boys, serves on the Kohler School District Board of Education and is a member of the Kohler Village Strategic Plan Committee. In 2005, Kohler was named co-recipient of the Wisconsin State Superintendent's "Friends of Education" Award.
A graduate of Duke University, where she earned a bachelor's degree in political science, Kohler also earned a master's degree in fine arts from Catholic University of America in Washington, D.C.
Ron McCoy
McCoy, university architect at Princeton University since 2008, has more than three decades of experience as an architect and educator. His Princeton appointment coincided with a 10-year university plan that included approximately two million square feet of new construction and renovation.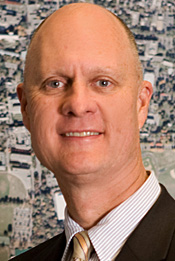 As one of the country's leading university architects, McCoy plays a central role in implementing Princeton's campus plan and capital program, working on issues of aesthetics and the preservation of the university's architectural heritage. He also represents the university in dealings with the Princeton Regional Planning Board and other public regulatory authorities.
McCoy started his own architectural practice in 1985 and later taught at Drexel and Temple universities. He was a faculty member at the Southern California Institute of Architecture for 10 years (1985-95) before joining Arizona State University as a professor and director of the university's School of Architecture and Landscape Architecture.
Under his leadership, ASU was recognized as one of the top 10 public schools of architecture in the country. McCoy served on ASU's President's Leadership Council on Sustainability and during his tenure, 10 new campus buildings earned Leadership in Energy and Environmental Design (LEED) certification under U.S. Green Building Council's rating system.
He was awarded the 2006 Arizona Architects Medal, presented by the state chapter of the American Institute of Architects and the following year was named to the AIA College of Fellows, an honor accorded less than two percent of registered architects in the United States.
McCoy, who lives in Princeton, N.J., earned a bachelor's degree from the University of Southern California and a master's degree in architecture from Princeton.
Terry Moran '82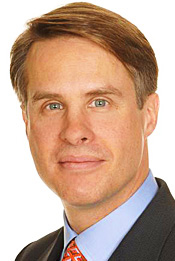 One of America's most recognizable broadcast journalists, Moran has served as ABC News' chief foreign correspondent since the fall of 2013. Based in London, he reports frequently from Syria and Iraq.
He joined ABC News in 1997 as a reporter for "Good Morning, America" and "World News," for which he was the network's chief White House correspondent. He spent several years as the anchor of ABC's "World News Sunday" before joining the network's "Nightline" program, where he spent eight years (2005-13) as co-anchor.
While on "Nightline," Moran reported on everything from the wars in Iraq and Afghanistan and Supreme Court decisions to the 2008 presidential campaigns of Barack Obama and John McCain and the American detention facility in Guantanamo Bay.
He began his journalism career as a reporter and assistant managing editor for the Legal Times and later joined CourtTV, where he covered the O.J. Simpson murder trial.
He has been recognized with the White House Correspondents Association's Merriman Smith Award for excellence in presidential reporting on deadline (2006) and a Peabody Award for his reporting and anchoring work on the ABC News documentary "Out of Control: AIDS in Black America" (2007).
Moran, who earned a degree in English at Lawrence, was presented his alma mater's Lucia R. Briggs Distinguished Achievement Award in 2003.
Garth Neustadter '10
A native of Manitowoc now living in Pasadena, Calif., Neustadter is a rising star in the field of film scoring. An Emmy Award-winning composer and multi-instrumentalist, he has written feature length scores for Warner Bros., PBS, Turner Classic Movies and China's CCTV. His compositions have been performed in venues ranging from Lincoln Center to Los Angeles' Nokia Theater. Most recently, his work has been selected to be performed in upcoming seasons by Grammy Award-winning violinist, Hilary Hahn, as part of the Encores Contest.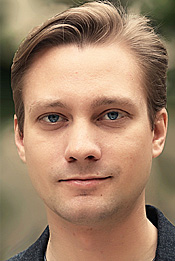 Neustadter was recognized in 2011 with a Primetime Creative Arts Emmy Award for a score he wrote while still a Lawrence student for the PBS American Masters documentary "John Muir and the New World" about the life of the 19th-century Scottish-American naturalist and environmental advocate.
His most recent film projects include compositions for the 2013 documentary "The Thingmaker," the short film "Ballad of Poisionberry Pete" and the 2012 feature-length film "Tar." He also wrote original music for Duracell's national "Powering Smiles" ad campaign, which was ranked in the top three holiday ads of 2013.
A five-time "DB" winner in Downbeat magazine's annual student music competition, Neustadter also earned first-prize honors in the 2007 Young Film Composers Competition sponsored by Turner Classic Movies. The following year, he was commissioned by TCM to write an original score for a restored version of the 1923 silent film "The White Sister." In 2010, he was named one of the 37 national winners of the ASCAP Foundation Morton Gould Young Composers Award for his 15-minute composition written for full orchestra and choir based on the Spanish text "Oh llama de amor viva."
In June, Lawrence recognized Neustadter with the college's Nathan Pusey Young Alumni Achievement Award.
After earning a bachelor of music degree summa cum laude in music performance (voice and violin) from Lawrence, Neustadter earned a master's degree in music at Yale University in 2012.
About Lawrence University
Founded in 1847, Lawrence University uniquely integrates a college of liberal arts and sciences with a nationally recognized conservatory of music, both devoted exclusively to undergraduate education. It was selected for inclusion in the Fiske Guide to Colleges 2015 and the book "Colleges That Change Lives: 40 Schools That Will Change the Way You Think About College." Engaged learning, the development of multiple interests and community outreach are central to the Lawrence experience. Lawrence draws its 1,500 students from nearly every state and more than 50 countries.