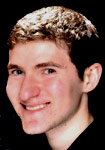 Alex Winter got his first taste of video gaming as a five-year old, playing "Sim City" at home in his father's attic office with his dad. He's been hooked ever since.
"Video games have been a part of my life my entire life," said the Lawrence University senior, who soon will turn his life-long affection for gaming into a year-long study of the social phenomenon of the video game culture in East Asia.
Winter was one of 40 undergraduates nationally awarded a $25,000 fellowship from the Rhode Island-based Thomas J. Watson Foundation for a year of independent travel and exploration outside the United States on a topic of the student's choosing. Winter, whose proposal —"Video Game Culture Studies in East Asia, Korea, China, Japan" — was selected from among 150 finalists representing 40 of the nation's premier private liberal arts colleges and universities. More than 820 students applied for this year's Watson Fellowship.
Interactive entertainment — gaming — has grown exponentially since the primitive days of "Pong." According to Price Waterhouse Coopers, interactive entertainment earned $41.9 billion in 2007 and is anticipated to surpass music revenue by 2011.
As it has evolved, interactive entertainment has moved away from the one game/one player model toward entire communities of players who are brought together through the game itself, creating an international digital community with a unique subculture.
"Video gaming is creating its own, unique traditions every day," said Winter, a biology major from Seattle, Wash. "Chief among them is a social, cultural network that circles the globe without regard for national boundaries or languages. The interactive entertainment industry is poised to change the world as profoundly as the Internet. We're standing on the brink of a cultural revolution and now is the perfect time to study this infant culture."
Winter will use his fellowship to visit China, Japan and South Korea, where the video game community holds mainstream positions much the same way Americans treat sports.
"I intend to spend time studying cyber athleticism, performance, economics and addiction in places where they are exceptionally visible, such as Internet cafes, gaming centers, arenas and conventions," said Winter. "I want to immerse myself in the culture, performing observational studies and interviews whenever possible."
Starting in mid-July, Winter will travel first to Hong Kong, the center of a unique economy in which real money is exchanged for goods that exist only inside the video game world. The next five months will be spent in Japan, home to three of the largest interactive entertainment publishers: Nintendo, Sony and Sega.
"The most accomplished players in Japan draw crowds of admirers, which is a fundamentally different style of video gaming than what is practiced here in the states," said Winter. "Players compete against both the computer and the previous player in what might be called 'video game performance art.' I want to explore the motivations of those who perform and those who come to watch this unique style of entertainment."
In January, Winter will travel to Beijing, home to the only state-sponsored video game addiction recovery center in the world. He plans to meet the doctors who treat the patients whose attachment to video games is near dependence levels and the video gamers themselves to explore how their addiction grew, how it affected their life and what led them to counseling.
During an ensuing five-month stay in South Korea, where competitions with prizes as high as $500,000 are nationally televised events, Winter will explore the country's specialized Internet cafes and the phenomenon of cyber athletes.
"The possibilities for learning about and embracing my gamer self in a country that lauds its players are exciting and endless," said Winter.
He will return to China in July 2011 to close his study in Shanghai, which boasts an exceptionally high number of gamers.
"I'm looking forward to seeing the interplay of traditional Chinese culture and interactive gaming in Shanghai," said Winter." "Of the three Chinese cities on my itinerary, Shanghai is the most traditional. Its collision and merger with state-of-the-art interactive entertainment will be a telling testament to the phenomenon of merging cultures."
Brian Pertl, dean of the conservatory of music, served as Lawrence's campus liaison to the Watson program this year. He said Winter will break "new ground" with his fellowship.
"His project is different. It's exploring areas that haven't been tackled by any previous Watson fellows," said Pertl, a 1986 Watson Fellowship recipient himself as a student at Lawrence. "Alex's passion for this topic as a scholar and as a participant in social gaming gives him the perfect background for this award. I'm confident he'll come back with some deep insights and fantastic experiences."
Winter sees his project not as a departure from his study of biology, but rather an extension of it.
"A background in biological science is fundamentally an education in methodical parsing of cause and effect," said Winter. "Human culture can be examined as a complex system with confounding factors. My background in science gives me a scaffold on which to build this study and dig into the new sociological frontier presented by East Asian gaming."
Winter is the 67th Lawrence student awarded a Watson Fellowship since the program's inception in 1969. It was established by the children of Thomas J. Watson, Sr., the founder of International Business Machines Corp., and his wife, Jeannette, to honor their parents' long-standing interest in education and world affairs.
Watson Fellows are selected on the basis of the nominee's character, academic record, leadership potential, willingness to delve into another culture and the personal significance of the project proposal. Since its founding, nearly 2,600 fellowships have been awarded.