Lawrence University student Megan Brown has been awarded a U.S. Department of State Critical Language Scholarship (CLS) to study Arabic this summer at the American Center for Oriental Research in Amman, Jordan.
A senior linguistics major from Saginaw, Mich., Brown was among 575 U.S. undergraduate and graduate students awarded one of the state department's critical language scholarships. She was selected from among nearly 5,300 applications.
Beginning June 13, Brown will spend 10 weeks in Jordan in a personalized, intensive language curriculum as well as various cultural activities. The scholarship covers all expenses during the 10-week program and includes a $1,000 stipend.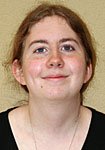 Brown, who has studied Chinese and French in addition to one year of Arabic at Lawrence, says "accurate communication is more essential than ever before due to the growing globalization of the world and the growth of the information industry." She hopes to eventually work for the U.S. Department of State as a foreign service officer and work "for more integrated international relations."
The CLS program was launched in 2006 to increase opportunities for American students to study critical-need languages overseas and expand the number of Americans studying and mastering critical-need languages, including Arabic, Chinese, Indonesian Japanese, Korean, Persian, Russian, Indic (Bangla/Bengali, Hindi, Punjabi and Urdu) and Turkic (Turkish and Azerbaijani).