Nine tenure-track scholars are joining the Lawrence University faculty this fall for the 2017-18 academic year at the rank of assistant professor. Four of the new faculty members are in the conservatory of music.
The new tenure track appointments include: Ingrid Albrecht, philosophy; Horacio Contreras, conservatory of music (cello); Andrew Crooks, conservatory of music (vocal coach); Dylan Fitz, economics; Anne Haydock, film studies; John Holiday, conservatory of music (voice); Rebecca Perry, conservatory of music (music theory); Julie Rana, mathematics; and Jesus Smith, ethnic studies.
"It's a great pleasure to welcome these gifted scholars and artists to Lawrence. As a new member of the community myself, I am repeatedly impressed by the records of professional achievement and teaching excellence of our faculty," said Catherine Kodat, provost and dean of the faculty who joined the administration July 1. "Our newest colleagues continue our tradition of distinguished faculty accomplishment in the laboratory, in the studio, onstage and in the classroom."
Brian Pertl, dean of the conservatory of music, is excited to welcome "four exceptional faculty" each of whom brings "experiences that greatly enhance our conservatory offerings."
"John Holiday, as a countertenor and rising star in the opera world, brings valuable insights from the professional stage into the classroom," said Pertl. "Horacio Contreras, who is widely considered one of Venezuela's greatest cellists, brings a passion for the vast and often unexplored repertoire of South American composers along with his passion for performing and teaching.
"Rebecca Perry joins our theory department as a passionate educator who seeks opportunities to holistically engage students in music theory," Pertl added. "Andrew Crooks comes directly from Germany, where he worked for Die Kommische Oper Berlin, one of the most forward-thinking opera houses in the world. These experiences will expand the learning opportunities for all of our students. It will be exciting to see how these four professors expand our Lawrence community."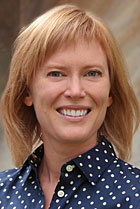 • Ingrid Albrecht, philosophy
While new to the tenure track, Albrecht is no stranger to Lawrence. A specialist in ethics and moral psychology, Albrecht first joined the Lawrence faculty in 2013 as a postdoctoral fellow of philosophy and Uihlein Fellow of Ethics. The past two years she held a visiting assistant professor appointment in the philosophy department, where she taught the courses Existentialism, Advanced Studies in Biomedical Ethics, Women and Friendship, and Philosophy of Sex and Love, among others.
Prior to Lawrence, Albrecht spent a year on the faculty at Ball State University.
Originally from Winston-Salem, N.C., she earned a bachelor's degree in philosophy from Wake Forest University and a master's and doctorate degree in philosophy at the University of Illinois, where she received the philosophy department's Distinguished Graduate Student Teaching Award.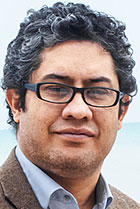 • Horacio Contreras, conservatory of music (cello)
A native of Venezuela, Contreras comes to Lawrence from the University of Michigan String Preparatory Academy, where he has taught for the past three years. He also has seven years of teaching experience in his homeland at the University of Los Andes and El Sistema, a music education program.
Contreras also has taught masterclasses at the National University of Colombia in Bogota and the National University of Cordoba in Argentina as well as at The Julliard School and Oberlin Conservatory of Music. Earlier this year, Contreras was appointed to the cello faculty at the Music Institute of Chicago, where he teaches on the weekends.
He has performed as a soloist with numerous symphony orchestras, including Venezuela's Simon Bolivar Symphony, Colombia's EAFIT Symphony Orchestra  and the Camerata de Frace in France. As a chamber musician and recitalist, he has participated in chamber music festivals and concert series throughout the Americas.
He did his undergraduate studies in Europe at conservatories in Perpignan, France, and Barcelona, Spain. He earned both a master of music degree and a doctorate of musical arts degree in cello performance at the University of Michigan.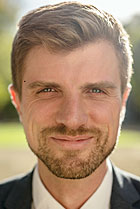 • Andrew Crooks, conservatory of music (vocal coach)
Crooks joins the conservatory of music from Berlin, Germany, where he has served as deputy chorus master of the Komische Oper Berlin since 2014. During his tenure there the chorus of the Komische Oper was awarded the title of Chorus of the Year in 2015 by the opera magazine Opernwelt. He also spent four years (2010-14) as an assistant to the chorus master at the Deutsche Oper Berlin.
In 2012, Crooks founded the Metamorphos Ensemble Berlin, an artistic collective of more than 200 singers and instrumentalists, for which he serves as artistic director.
Originally from New Zealand, Crooks has worked on productions with Canterbury Opera and Opera Otago in his native country as well as nearly a dozen productions with Cincinnati Opera.
He earned a bachelor of music in piano and oboe as well as a bachelor of arts in German language and literature from the University of Otago (Dunedin, New Zealand). He also holds a master's degree in conducting from Indiana University and an Artist Diploma in opera coaching from the Cincinnati College-Conservatory of Music.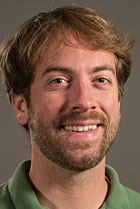 • Dylan Fitz, economics
A specialist in development economics, Fitz joins the economics department from Davidson College, where he spent the past four years as an assistant professor. His current research evaluates the effectiveness of social programs, the causes of poverty, and the importance of risk and learning in technology adoption.  Fitz will teach courses on effective altruism, Latin American economic development and political economy and economic development, among others.
A native of State College, Pa., he earned a bachelor's degree in politics at Princeton University, with certificates in Latin American studies and political economy. He earned both a master's and doctorate degree in agricultural and applied economics from the University of Wisconsin-Madison.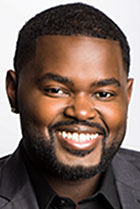 • John Holiday, conservatory of music (voice)
Holiday joins the voice department on the crest of a prestigious national award. Earlier this year, Holiday was named winner of the John F. Kennedy Center for the Performing Arts 2017 Marian Anderson Vocal Award. The award recognizes "a young American singer who has achieved initial professional success in the vocal arts and who exhibits promise for a significant career." As the Marian Anderson winner, he will sing a recital at the Kennedy Center next February 25.
Opera Wire has described Holiday as "one of the most promising countertenors of his generation" and said his "star is rising." Broadway World included Holiday in its 2015 list of "New York Opera Gifts that Keep on Giving."
This summer, Holiday sang the title role in the Glimmerglass Festival's production of "Xerxes" in Cooperstown, N.Y. He is also slated to play John Blue in Opera Philadelphia's world premiere of "We Shall Not Be Moved," under the direction and choreography of award-winning Bill T. Jones. The show also will be performed at the Apollo Theater and London's Hackney Empire Theater. Holiday has additional upcoming title roles as Orfeo in Florida Grand Opera's "Orfeo ed Euridice" and as the refugee in "Flight" with the Des Moines Metro Opera.
His discography includes 2012's "Messiah" with the Cincinnati Boychoir, and Philip Glass' "Galileo Galilei" with the Portland Opera which came out in 2013. His recording of Ars Lyrica's production of "La Sposa Dei Cantici" is scheduled for release this fall.
Beyond classical repertoire, Holiday performs gospel and jazz music. His debut jazz album, "The Holiday Guide," was released in 2006.
Holiday, who grew up near Houston, earned a bachelor's degree in vocal performance from Southern Methodist University, a master of music in vocal performance from the University of Cincinnati College – Conservatory of Music and the Artist Diploma in opera studies from The Juilliard School.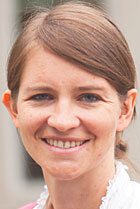 • Rebecca Perry, conservatory of music (music theory)
Perry joins the music theory department after four years as an instructor at Yale University, where she taught courses on tonal harmony, elementary musicianship, topics in world music and the history of Western music, among others.
Her scholarship interests focus on composer Sergei Prokofiev and the Russian sonata traditions.
A native of Rolla, Mo., Perry, who speaks Mandarin Chinese and Russian, earned bachelor's degrees in piano performance and political science from Brigham Young University and master's and doctorate degrees in music history from Yale University.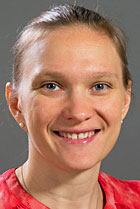 • Julie Rana, mathematics
A specialist in algebraic geometry, especially moduli spaces, singular spaces and deformation theory, Rana spent the past two years as an assistant professor at the University of Minnesota. She began her teaching career as a Math Fellow at Vermont's Marlboro College.
She has taught nearly 30 different math courses, including differential calculus, computational algebraic geometry and linear algebra and delivered more than a dozen invited talks at seminars and symposiums around the country. Rana also has helped organize numerous math-focused outreach enrichment programs for elementary students and high school teachers.
Rana earned a bachelor's degree in mathematics at Marlboro College, and both a master's and doctorate degree in mathematics at the University of Massachusetts, Amherst.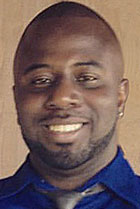 • Jesus Smith, ethnic studies
A sociologist, Smith comes to Lawrence from Texas A & M University, where he was a Diversity Fellow the past two years. Smith's research interests include race and ethnic relations, sex and gender, computer and information technologies.
A native of El Paso, Texas, Smith has written published articles on the politics of Latinx identity and the intersections of race, gender and sexuality in cyber space, among other topics, has given scholarly presentations at a dozen academic conferences throughout the country and has served as a reviewer for several professional journals.
Smith earned a bachelor's degree in psychology and a master's degree in sociology at the University of Texas-El Paso. He earned his Ph.D. in sociology at the Texas A & M University.
About Lawrence University
Founded in 1847, Lawrence University uniquely integrates a college of liberal arts and sciences with a nationally recognized conservatory of music, both devoted exclusively to undergraduate education. It was selected for inclusion in the book "Colleges That Change Lives: 40 Schools That Will Change the Way You Think About College."  Engaged learning, the development of multiple interests and community outreach are central to the Lawrence experience. Lawrence draws its 1,500 students from nearly every state and more than 50 countries.