The Lawrence University Board of Trustees has named Mark Burstein, executive vice president of Princeton University, the college's 16th president.
Burstein takes office July 1, 2013, succeeding Jill Beck, who is retiring June 30 after nine years as the college's president. She was appointed the first female president in Lawrence's 165-year history in 2004.
"I was drawn to Lawrence's rigorous academic environment, its commitment to providing an individualized learning experience to all students and its unique combination of a strong liberal arts education with a nationally-recognized conservatory of music," said Burstein.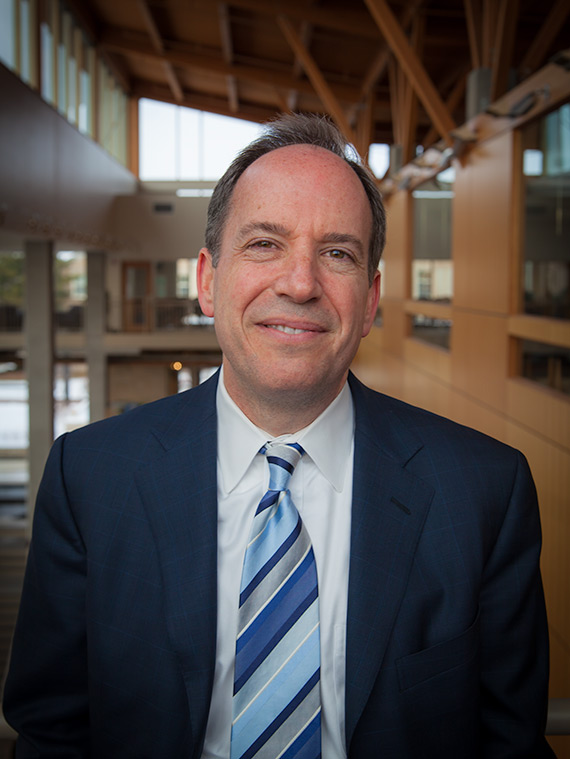 "Through the dedication of its faculty, Lawrence provides an educational experience that literally changes lives, setting its graduates on a trajectory of success and continued exploration. I'm looking forward to working with colleagues to ensure Lawrence's tradition of excellence. I am thrilled to be joining an institution with a history of storied presidents, including my two immediate predecessors, Jill Beck and Richard Warch."
Terry Franke, chair of the Lawrence University Board of Trustees, cited Burstein's breadth of leadership and deep higher education experience across multiple institutions among the reasons he stood out from more than 100 candidates identified by national search firm Isaacson, Miller, which assisted the college's own search committee.
"Along with my fellow Trustees, I am delighted to welcome Mark to Lawrence University," said Franke, a 1968 Lawrence graduate. "Mark brings with him a unique set of experiences in public service, finance, consulting as well as leadership with two of the country's most prestigious educational institutions. This background positions him to be a great leader and president. We are very impressed by Mark's collaborative style of leadership, in addition to the depth of his operational and management expertise.
"Mark has an affinity and passion for the academic mission of the liberal arts and embraces the transformative experience for Lawrence students as they prepare for their future," Franke added. "His liberal arts experience at Vassar and now his Board service at Vassar provide him a unique perspective on the liberal arts. We have every confidence that Mark will lead Lawrence to future greatness, building on the momentum and innovation of President Jill Beck."
Dale Schuh, who served as chair of a 15-person committee consisting of trustees, faculty members, representatives of the student body, alumni and administrative staff that conducted an extensive national search, said Burstein was the unanimous recommendation of the search committee.
"Mark has a distinctive combination of talents and experience that jumped out immediately from the candidate pool," said Schuh, a 1970 Lawrence graduate. "He understands the liberal arts and the residential college experience plus brings broad experience in operations, finance and strategic institutional planning to the table. He's smart, engaging, thoughtful, respectful, articulate and self-assured without being arrogant. I'm confident we have found an exceptional leader for Lawrence."
Ivy League Connections
Burstein, 51, brings a strong Ivy League connection along with an extensive background in higher education leadership, government service, investment banking and consulting to Lawrence.
Named executive vice president at Princeton in 2004, Burstein led efforts to enhance campus life and modernize the university's operations and infrastructure. His responsibilities include overseeing a $200 million budget and a staff of 1,800 in the areas of student life, public safety, university audit and compliance, human resources and facilities.
He played a prominent role in developing priorities for a $1.88 billion fundraising campaign and assisted in securing gifts to support academic initiatives, campus life and athletics.
Among Burstein's recent accomplishments:
Creating an award-winning master plan for Princeton's 500-acre campus and establishing a real estate strategy for the university
Drafting a sustainability plan for Princeton that integrates teaching and research with administrative initiatives
Launching, with the Dean of the College, a four year residential college system
Developing, with colleagues, initiatives in diversity, wellness and childcare to improve campus culture
He also played lead roles in managing various trustee committees and served as chair of numerous university committees including ones that manage efforts to increase efficiency across academic and administrative departments, that strengthen the university's safety environment and risk management efforts, and that integrate fundraising, budget and facilities issues for the athletic department. Burstein is presently teaching in Princeton's freshman seminar program.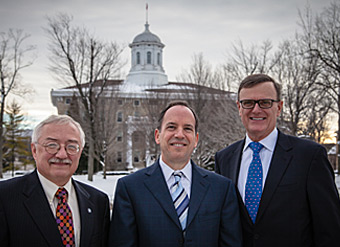 "It is a great pleasure to welcome my colleague Mark Burstein into the ranks of university and college presidents and to congratulate Lawrence University on a wonderful choice," said Princeton President Shirley Tilghman. "Mark has been a stellar leader as Executive Vice President at Princeton. He combines a deep commitment to the liberal arts, forged during his undergraduate education at Vassar College, with extensive experience as a senior administrator at Columbia and Princeton. There is no aspect of university life that has not benefited from his stewardship. He will be greatly missed at Princeton."
Prior to joining Princeton's executive team, Burstein spent 10 years at Columbia University in several senior positions: first as acting vice president of human resources, then as the university's first vice president of student services and, his last five years there, as vice president of facilities management. During his tenure at Columbia, Burstein developed a plan for a new campus located in Harlem, acquired more than $250 million of real estate for academic development, oversaw $1 billion in construction, provided financial, health, housing, registrar and retail services to a 20,000-student community and directed benefits, compensation and labor relations for the institution.
"I believe a liberal arts education provides an excellent foundation for future success and is the most effective way to ensure that social mobility continues in American society," Burstein said.  "Education has been the cornerstone of my career – just as a Lawrence education has allowed its alumni to thrive in their chosen professions.  Given the challenges that face society today, I expect the value of a liberal arts education and specifically the Lawrence experience will only increase in the years ahead."
Earlier in his career, Burstein helped found New York City's recycling program as a senior leader in the sanitation department, and funded moderate income housing as an associate in the public finance department of Bear, Stearns & Company.  He also worked with clients on strategy and organizational development initiatives as a consultant at the Center for Applied Research in Philadelphia.
A native of Cedar Grove, N.J., Burstein earned a bachelor of arts degree in history and independent studies at Vassar College, where he was awarded the Catlin Prize for outstanding contributions to the college community.  He earned a master of business administration degree from the Wharton School at the University of Pennsylvania where he was a Henry and Marcelle Morgenthau fellow.
Burstein has served as a member of the Vassar Board of Trustees since 2009 and recently served on the New York City Mayor's Applied Sciences Advisory Board.  He spent two years as chair of the board of directors of the Victory Fund, a Washington, D.C.-based national political action committee.
Burstein will be joined in Appleton by his spouse David Calle, who is the Global Chief Financial Officer of Unilever's Food Solutions business.
About Lawrence University
Founded in 1847, Lawrence University uniquely integrates a college of liberal arts and sciences with a nationally recognized conservatory of music, both devoted exclusively to undergraduate education. It was selected for inclusion in the Fiske Guide to Colleges 2013 and the book "Colleges That Change Lives: 40 Schools That Will Change the Way You Think About College." Individualized learning, the development of multiple interests and community engagement are central to the Lawrence experience. Lawrence draws its 1,500 students from nearly every state and more than 50 countries. Follow Lawrence on Facebook.