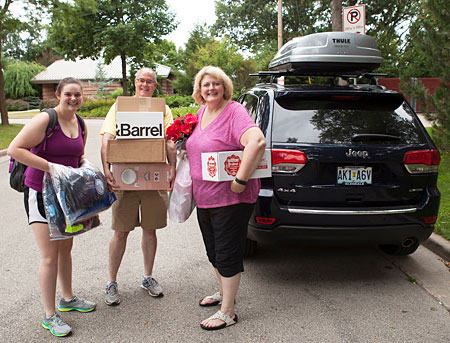 The welcome mats will be out in abundance Tuesday, Sept. 5 when 385 new Lawrence University students, including 17 from the Fox Cities, arrive for that traditional rite of passage known as Freshmen Move in Day and the start of new student orientation activities. Classes for Lawrence's 169th academic year begin Monday, Sept. 11.
Freshmen members of the Class of 2021 were drawn from a school-record number of more than 3,600 applicants, building on a five-year upward trend. Since 2012, first-year applications to Lawrence have increased 39 percent.
While Wisconsin, Illinois and Minnesota remain first, second and third, respectively, in sending the most students to Lawrence, more than half of this year's total of new students hail from outside those traditional big three. California and New York round out the top five Lawrence student-producing states. Some of the incoming students from Texas are still coping with the effects of Hurricane Harvey, which has brought out the best in their fellow Lawrentians.
"We've had parents of current students from unaffected parts of Texas reach out to those families of first-year students in the hurricane areas," said Ken Anselment, dean of admissions and financial aid. "They're offering help to any fellow Lawrentians who may need it. That's so Lawrence-like."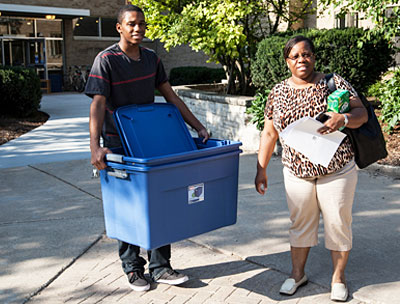 Thirty percent of the new students identify as domestic students of color: African-American, Native American, Hispanic, Asian-American or multi-ethnic.
"This is one of the most ethnically diverse classes we have seen in decades," said Anselment. "This continues a trend we've seen over the past five years during which roughly a quarter of our new students have identified as domestic students of color."
China, with 12 incoming freshmen, leads Lawrence's traditionally strong international student make-up, with six students matriculating from Vietnam. Thirty-four students representing 19 countries, including Bangladesh, Ghana, Kazakhstan, Nepal and the United Arab Emirates are among this year's first-year students.
"As the population of college-bound students in the United States has been declining, especially so in the Midwest, we have been increasing our national and international recruitment focus," said Anselment.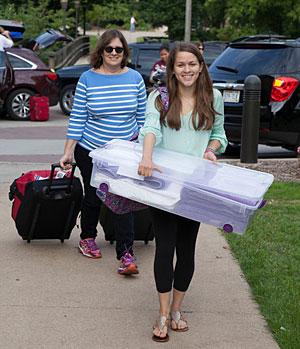 Academically, first-year students averaged 29 on the ACT, with nearly 40 percent of them graduating in the top 10 percent of their high school class.
"This class is noteworthy for its strong academics, its geographic and cultural diversity and its athletic and musical talent," said Anselment. "We have some exceptional student-athletes and exceptional musicians. It's one of the stronger years we've seen."
About Lawrence University
Founded in 1847, Lawrence University uniquely integrates a college of liberal arts and sciences with a nationally recognized conservatory of music, both devoted exclusively to undergraduate education. It was selected for inclusion in the book "Colleges That Change Lives: 40 Schools That Will Change the Way You Think About College." Engaged learning, the development of multiple interests and community outreach are central to the Lawrence experience. Lawrence draws its 1,500 students from nearly every state and more than 50 countries.