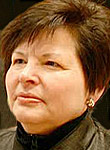 Mary Jane Jacob
Independent curator and executive director of exhibitions, School of the Art Institute of Chicago
"The Collective Creative Process"
Tuesday, February 8, 2011
11:10am
Curator, author, educator, Mary Jane Jacob is known for her work on the national and international art scene. Exploring art outside the museum context, she has spent the past 20 years as an independent curator organizing groundbreaking programs that have tested the boundaries of public space and relationship of contemporary art to audience. Among her most influential programs was "Culture in Action," a two-year-long project in Chicago that partnered artists with community members to explore the changing nature of public art, its relationship to social issues and an expanded role of audience from spectator to participant.
During the 1980s, as chief curator of Chicago's Museum of Contemporary Art and the Museum of Contemporary Art in Los Angeles, Jacob staged some of the first U.S. retrospectives and one-person shows of American and European artists, as well as organized some of the key surveys of art of the period.
Resources by and about Mary Jane Jacob