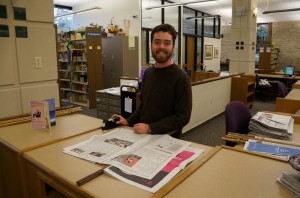 As you know, we love our student workers! One of our favorite things about working with them is learning about their many projects and accomplishments around campus. As much as it might appear as if they spend all of their free time perfecting their library duties, in reality they excel in many other areas: performing, producing, and achieving so many wonderful things.
Take Olav Bjornerud for example. In addition to working in the Mudd during his entire academic career, he has also spent the past several summers handcrafting a beautiful Viking ship named Strake, which is now on display in the Buchanan Kiewit Wellness Center. Read on to learn more about Olav, and to see a photograph of his gorgeous craftsmanship. Also, be sure to swing by the Wellness Center to get a real feel for the amount of work and attention that went into building such a large and detailed vessel.
What is your job title at the Mudd and what work does that entail?
The official title of my job is "Student Circulation Desk Assistant." I check in and out books, movies, music, and course reserves, and preform a wide range of miscellaneous tasks behind the desk.
What's your major?
I'm a Studio Art / History double major (definitely not Art History, though).
When will you graduate?
As far as I know, I'm graduating in June, 2014.
Where are you from?
I'm actually from Appleton; Lawrence is closer to my house than my high school was.
How long have you been working at the Mudd?
I've been able to work at the library all four years, excluding one term when I was abroad in London.
What's your favorite part of your job?
I've loved being able to see the inner workings of the library and all the parts that are essential to keeping it running smoothly.
Share something you've done at work that has made you especially proud.
Whenever I'm able help someone, lend a hand in finding an item, or answer some question, it's always very satisfying.
As a student, where is your favorite (study/relaxation/hang-out) spot in the Mudd?
I particularly like studying (and putting off studying) on the top floors of library, where I can peer out the windows over campus.
What are your hobbies?
I enjoy listening to music, building things in the sculpture studio, and as generic as it sounds, hanging out with friends.
What's the last book you read that you couldn't put down?
That would have to be George Mackay Brown's Greenvoe.  While the book is definitely character driven, and it takes a bit for the plot to gain momentum, I couldn't get enough of Brown's prose and lyrical descriptions of the Orkney Islands.
What are your favorite bands or performers?
I completely believe that Bob Dylan is the greatest American artist living or dead.  His output during the 60s and 70s was legendary, and since the 1990s he's released masterpiece after masterpiece as he continues to redefine himself.  I actually prefer his more recent work—I love his current voice that sounds like he's been gargling thumbtacks.  I saw him live a few years ago on Halloween and it was by far the best show I've ever been to.
What groups and/or organizations are you active in (on or off campus)?
I'm part of the Greenfire Co-op, on the newly formed cross-country skiing team, and also one half of a folk music radio show on WLFM.
Strake by Olav A. Bjornerud
Ash and painted steel, 2013
On view now at the Buchanan Kiewit Wellness Center!
With its organic and enveloping curves, Strake celebrates Lawrence University's mascot and is inspired by the Vikings' expert synthesis of form and function.