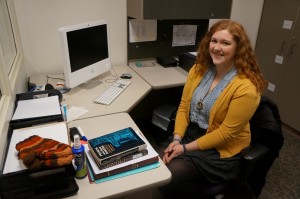 We are pleased to introduce Allison Wray, the library's new Student Social Media Assistant! In the short while that she's held this position, she's impressed us with her skill and talent, and we are so grateful to have her social media acumen here at the Mudd. You may have already noticed that Allison has been writing some wonderful posts for this blog, and she is also helping us maintain all of our social media sites.  She recently shared with us that Lawrence students tend to use tumblr more than any other social media site; thanks to her insight, we're now aiming to reach more of the Lawrence community through our tumblr page.
We're looking forward to continued collaboration with Allison, who also shares her talents at the Circulation desk. Read on to learn more about this multifaceted and talented student worker.
What's your major?
English, but I'm thinking about adding art history as well.
Where are you from?
West Bend, Wisconsin
How long have you been working at the Mudd?
Fall term of this year.
What's your favorite part of your job?
I really like being a part of the "behind-the-scenes" work of a central campus spot. It's so cool to see how the library operates!
Share something you've done at work that has made you especially proud.
I redesigned the theme on the tumblr page! It's not awfully difficult, but I'm really glad with how it turned out. Designing a nice theme is very satisfying for me.
As a student, where is your favorite study/relaxation/hang-out spot in the Mudd?
I don't usually stick to one spot, but as long as there's a big window, I'm happy. I am a fan of the upper floors, though.
What are your hobbies?
Knitting, watercolor and oil painting, reading, sleeping, and binge watching television on Netflix.
What's the last book you read that you couldn't put down?
It's been so long since I read a book for fun! I can't name one, but I just started Full Bloom: The Art and Life of Georgia O'Keeffe and I'm excited to get into it.
What are your favorite bands or performers?
I really enjoy folk and indie music; some of my favorites are Andrew Bird, Bon Iver, Laura Marling, and Johnny Flynn.
List your favorite blogs and/or magazines.
I really love Autostraddle.com and Nylon magazine.
What groups and/or organizations are you active in (on or off campus)?
I'm involved in Tropos (the literary magazine) and the Downer Feminist Council, and I adore both!
When will you graduate? What are your post-graduation plans?
2017. I don't know yet, but I think I'd like to go to grad school for library sciences or museum studies.