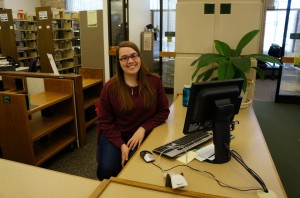 Devin Ditto is a psychology major from St. Louis, Missouri, and works as a Circulation Assistant at the Seeley G. Mudd Library. We love to see her smiling face from behind the Circulation Desk, where she helps students and faculty access course reserves, locates materials and assists students in navigating the stacks, and helps patrons use the copier, scanner, and printer. Devin enjoys working in the Mudd, and it shows!
We asked this circulation assistant a few questions so that you, our faithful patrons, could get to know her and her work in the library a little bit better. Be sure to say hello the next time you see her in the Mudd, and you may get a glimpse of her shining smile yourself.
Devin, how long have you been working at the Mudd?
This will be my second year working in the library.
What's the best part of your job?
I think my favorite part is helping students find what they are looking for. The other staff members are pretty great as well.
As a student, where is your favorite study/relaxation/hang-out spot in the Mudd?
It depends on what kind of mood I'm in. If I actually want to be productive, somewhere on the second or third floor. If I want to be a little bit productive but still talk to friends, the first floor. And if I want to make myself believe that I'm being productive, the Kruse room.
What are your hobbies?
Cooking and baking
What's the last book you read that you couldn't put down?
Gone Girl – I read at least 200 pages in one day over reading period.
What are your favorite bands or performers?
Oh my gosh, so many favorites that I don't think I actually have a favorite!
What groups and/or organizations are you active in (on or off campus)?
LUCC (Lawrence University Community Council)
When will you graduate? What are your post-graduation plans?
I will graduate in June. I'm not sure what my post-graduation plans are, but hopefully working, so that I can save up to go back to school, is on the agenda.
Is there anything you'd like to share about the Mudd with your fellow students?
Actually use it! It has so much stuff to offer, from great study spots to a friendly environment. The staff is always really helpful, and you will almost always be able to find what you need or are looking for.