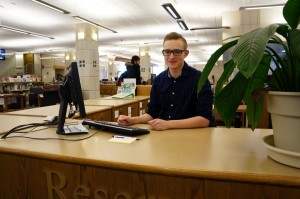 Tyler Grasee is another of the Seeley G. Mudd Library's wonderful Circulation Assistants. He is adept at the full array of circulation duties, including helping patrons find and check out materials. Tyler, who is an anthropology and German double major, has worked in the Mudd since his sophomore year at Lawrence. We appreciate his sweet and helpful nature, and are always impressed with his impeccable sense of style. Read on to learn more about Tyler!
Tyler, where are you from?
I'm a local! Originally from Green Bay, Wisconsin.
What's your favorite part of your job?
I love the interactions with professors, visitors, and other non-students. Working with and meeting new people are nice breaks from studying.
Share something you've done at work that has made you especially proud.
I'm not certain I've done anything particularly notable behind the desk, but there is definitely a sense of personal satisfaction on the rare occasion I find a lost book.
As a student, where is your favorite study/relaxation/hang-out spot in the Mudd?
The Kruse room on the fourth floor has a great view and very cozy furniture.
What are your hobbies?
Though traveling, attending concerts, reading, and writing are all at the top of my list, food will always be number one. There is nothing I appreciate more than an interesting culinary experience, whether it be out or at home. I'll eat anything.
What's the last book you read that you couldn't put down?
"The Prophet" by Kahlil Gibran. If you like poetry, it changes your life within the hour it takes to read.
What are your favorite bands or performers?
Classical music is my first love, but I usually find myself listening to Disclosure, FKA Twigs, Grimes, SBTRKT, Tei Shi, Lana del Rey, Janelle Monae, Edith Piaf and Marlene Dietrich, and of course, Beyoncé.
How about your favorite blogs and/or magazines?
This is difficult for me to narrow down, but I'll give it a try: Fast Company, Chronicle of Higher Education, Hello Mr., New York Magazine, Dazed and Confused Magazine, the Atlantic, Vogue, and GQ are a few.
What groups and/or organizations are you active in (on or off campus)?
I've been most active in Hillel, Anthropology Club, and GLOW.
When will you graduate? What are your post-graduation plans?
I'm graduating this spring! I'm hoping to get my Master's in museum studies.
Is there anything you'd like to share about the Mudd with your fellow students?
Interlibrary loan is a great tool, use it!