The library offers so many resources and services, it can be hard to keep track of all the ways in which we can help you succeed at Lawrence.
Below you'll find a handy list of just a few ideas for optimizing your experience in the Mudd. How many have you employed?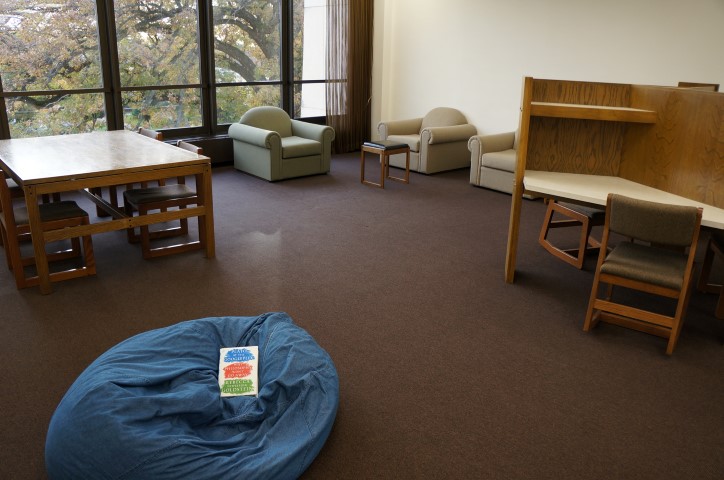 Grab a study buddy and a rolling whiteboard to parse out those tricky formulas.
Head for the quiet solitude of the fourth floor and hide out in the stacks to read.
Contact a reference librarian for research assistance or make a research appointment: visit the desk, call, email, or text!
Watch a movie for class or relaxation in one of our five viewing rooms.
Browse the fiction and graphic novels on the third floor during a study break.
Wheel one of our standing desks to your favorite spot to focus.
Lounge on one of the comfy couches in the Milwaukee-Downer Room (1st floor) or in the Roger Dale Kruse Room (4th floor) while doing your class reading.
Reserve a group study room on either the 2nd or 3rd floor by signing your name on the clipboard outside the door. Invite your friends for an intensive study session.
Practice your PowerPoint presentation in the group study room on the 2nd floor.
Check out the art in the Mudd Gallery on the 3rd floor during a study break.
Cozy up to read or nap in one of our beanbag chairs! There are three spread out across the upper floors.
Browse the free book shelf on the 2nd floor. You can find some great music there as well!
Catch up on domestic or international current events with a newspaper.
Hide away for some quiet study among the bound periodicals on level A.
Visit the Circulation Desk to check out a locker for your research materials. Or check out the Wii for the weekend!
Gather some friends for a game break: everything from Candyland to Catan can be found on the 2nd floor.
Pop into the Archives on Level B one afternoon and visit with Erin Dix, our friendly and informative archivist. Find out the answers to your burning questions about the history of Lawrence and Milwaukee-Downer.
Are there any other ideas that you would add to this list? How do you use the Mudd? We'd love to hear from you!
Regardless of how you use the Mudd, we look forward to seeing you soon.