We are so grateful when our hard-working students take time out of their busy schedules to share what they're up to in the library!
Sierra Parker has been spending an awful lot of time in her student office this term. The Linguistics and Russian Studies major is from Michigan's Upper Penisula and will be graduating in June. Sierra plans to attend graduate school to study communication disorders after taking a year or two off to work with FoodCorps (a branch of AmeriCorps that helps start school gardens and educates kids about healthy foods) or the National Park Service.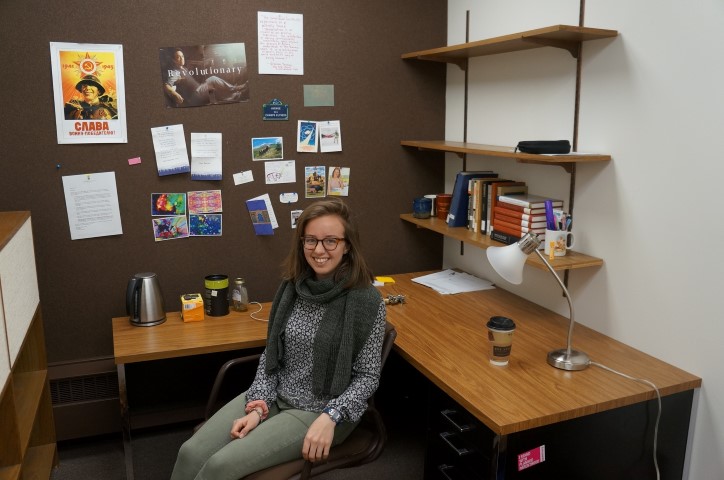 Sierra, what are you researching?
I am researching aphasia, a language disorder.  People with aphasia lose the ability to find words and/or use them coherently.
More specifically, I am looking at how aphasia was studied by two Soviet psychologists: Alexander Luria and Lev Vygotsky. I am interested in what they believed about aphasia, as well as the chain of thought that led them there.
What are you hoping to learn or gain from this research?
I am fascinated with how people with aphasia experience the world. I am hoping to gain some insight by learning more about conceptions of aphasia that differ from the modern Western approach.
Why do you think this research is important?
I believe it is always important to step into someone else's shoes (in this case: people with aphasia, Vygotsky, and Luria) and try to see the world from their point of view. Also, Western histories of aphasiology tend to overlook the groundbreaking work done by Vygotsky, Luria, and other Russian/Soviet psychologists.
How did you become interested in this line of research?
I took the class Brain & Behavior, which introduced me to aphasia. As someone who has always been interested in language, I was stunned by the implications of losing it. I instantly wanted to know more about the disorder, as well as the lives and minds of those who live with it every day.
What library materials and resources have been the most useful to you in pursuing this research?
The library created a research guide specific to my senior seminar, which has been extraordinarily useful. The PSYCInfo database has been helpful, as well as the fact that the library owns four volumes of Vygotsky's Collected Works!
What would you like your fellow students to know about the Mudd Library?
Apply for an office! They are a big help, especially if you are planning on using many books from the Mudd's collection.
Also, do not be afraid to ask the librarians for help. That's what they're there for!
Thanks, Sierra. We couldn't have said it better ourselves. See you around the Mudd.
Save