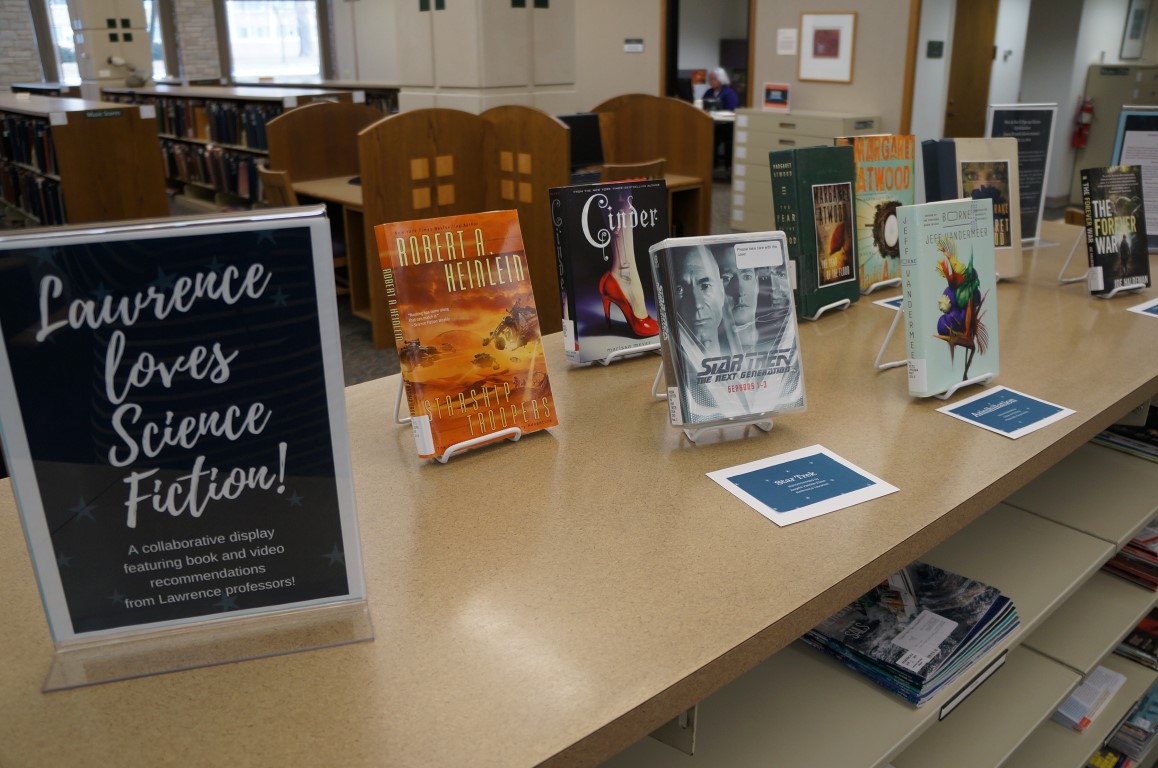 This term the Mudd Library has partnered with professors from around campus to create a display celebrating science fiction!
The display is meant to highlight several winter term science fiction courses currently underway.
Chloe Armstrong is teaching Science Fiction and Philosophy, Amy Ongiri is leading a class called Queering Science Fiction Film, and Jason Brozek is heading up a weekend retreat to Bjorklunden to study War and Science Fiction.
Below we've shared science fiction recommendations from professors across disciplines. Our library display, located on the first floor, includes many of these recommendations, and more!
Jason Brozek from the Government Department recommends:
Starship Troopers (1997) – This is right up there with Kubrick's Dr. Strangelove as one of the best military satires of all time.
Battlestar Galactica (the rebooted series, 2004-2009) – One of the most powerful TV representations of issues like dehumanization, torture, terrorism, and civil-military relations.
The Forever War by Joe Halderman (1974) – The plot is about humanity traveling light-years to fight an interstellar enemy, but this book is really about how the experience of war fundamentally changes the people who fight it.
Amy Ongiri from Film Studies recommends:
Bloodchild and Other Stories by Octavia Butler
Octavia's Broodedited by Walidah Imarisha
Peddle Zombies by Elly Blue
Our Reference and Learning Technologies Librarian Angela Vanden Elzen recommends:
Star Trek
Dr. Who
Cinder by Marissa Meyer
Monica Rico from the History Department recommends:
Doomsday Book by Connie Willis. It explores the historical and philosophical issues raised by time travel in a sophisticated way, but it's also a book that, at its heart, is about friendship, compassion, and loyalty.
Martyn Smith from Religious Studies recommends:
Elon Musk, Elon Musk, SpaceX, Tesla, and the Quest for a Fantastic Future
Claire Kervin from Environmental Studies recommends:
Maddaddam Trilogy by Margaret Atwood
Victoria Kononova from the Russian Department recommends:
The Roadside Picnic by Arkady and Boris Strugatsky 

Metro 2033 by Dmitry Glukhovsky

Chloe Armstrong from the Philosophy Department recommends:
"Imposter Syndrome" by Mari Kurisato, in Love Beyond Body, Space and Time, an Indigenous LGBT Sci-fi Anthology, edited by Hope Nicholson
Story of Your Life by Ted Chiang
Annihilation by Jeff Vandermeer
Please come in and visit our display if you are on campus!
We hope you will consider reading or watching some science fiction, and that you live long and prosper, too!