A bit about me, Joe Siegel (LU class of 2001)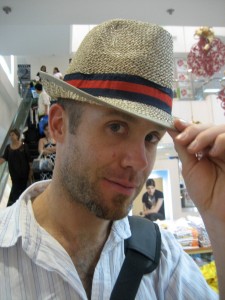 How do people learn to listen? It's something that most people don't even stop to think about. The ability to listen in our first language develops with little effort or explicit attention, but listening competency in a second language can be an arduous task, something that takes significant time and effort.  I've been interested in how listening 'works' for a long time, particularly in a second language, and I'm amazed by what an incredible ability it is. Biological, psychological, and auditory aspects combine to help us understand the aural messages we receive, and the communicative importance of listening, whether in a first or second language, makes it a fundamental tool.
I'm currently working as an Assistant Professor in the Department of Foreign Languages at J. F. Oberlin University in Tokyo, Japan. In the classroom, I teach courses on general English as a foreign language (EFL) with a specific focus on the development of aural abilities in a second language. Such skills include recognizing the beginnings and endings of words, parsing the speech stream into meaningful chunks of language, and confirming or rejecting predictions we make about what we hear. As a researcher in the field of applied linguistics, I'm interested to learn more about teaching methods and learning styles for second language listening. This work has included MA and PhD dissertations and grant-funded research supported by the Ministry of Education in Japan.
The liberal arts education I received at Lawrence was a great preparation for my career, since my particular area of research focuses on the intersection of biology, psychology, education, and foreign language teaching and learning. A number of classes I took at LU have had a great impact on how I go about research and academic writing. Freshman Studies was a wonderful interdisciplinary experience, and I benefitted from the challenges of relating different works, genres, and themes to each other. I remember one Freshman Studies teacher who gave us the autonomy to choose any two works we had covered during the semester and write a paper on any aspect that linked the two. What a fantastic assignment for freshman students! What freedom!
Creativity, analytic thinking, and the need for clarity of expression: all of these have been indispensable in the work that I do now.
I majored in English at Lawrence, and the comparative and close analyses of important works of literature have definitely prepared me to do background reading of academic works and to construct clearly-written yet sophisticated literature reviews for academic publications. The two independent studies classes that I completed at LU gave me the opportunity to set up, plan, resource, and execute small-scale projects on my own. These courses, which I completed in my junior and senior years, were practical bridges that allowed me to transition from work done purely for grades and research done in the 'real world' for the benefit of students, colleagues, and the language teaching field in general. Further, at Lawrence, I had chances to interact closely and collaboratively with professors, which gave me much-needed confidence and thick skin that I'd need when dealing with peer reviewers and editors working for journals and publishing companies, who can sometimes be a picky bunch.
Listed below are some of my main and more recent publications, mostly on topics related to second language listening pedagogy:
Siegel, J. (2013). Methodological ingenuity for second language listening. In J.  Schwieter (Ed.), Studies and global perspectives of second language teaching and learning (pp. 113-139). Charlotte: Information Age Publishing.
Siegel, J. (2013). Exploring L2 listening instruction: Examinations of practice.  ELT Journal, 68(1).
Siegel, J. & Siegel, A. (2013). Empirical and attitudinal effects of bottom-up listening activities in the L2 classroom. ELT World Online, 5, 1-25, http://blog.nus.edu.sg/eltwo/.
Siegel, J. (2012). Second language learners' perceptions of listening strategy instruction. Innovations in language learning and teaching, 7(1), 1-18.
Siegel, J. (2011). Thoughts on L2 listening pedagogy. ELT Journal, 65(3), 318-321.
Siegel, J. (2011). Learner development through listening strategy training. In K. Irie & A. Stewart (Eds.), Realizing autonomy: Practice and reflection in language education contexts (pp. 78-93). Basingstoke, UK: Palgrave Macmillan.
In the future, I plan to continue investigating current methodologies in language teaching and to develop and trial other alternative ways of teaching second language listening. I've also recently become more interested in pragmatic development, especially concerning university students who complete study abroad experiences.