In collaboration with Green Roots' Earth Week celebration, award-winning author and cultural historian Rebecca Solnit presents "Swimming Upstream in History: Hope, Disaster, Utopia" April 20 at 11:10 a.m. as part of Lawrence University's 2009-10 convocation series.
Solnit's address in the Lawrence Memorial Chapel, 520 E. College Ave., will be followed by a question-and-answer session at 2 p.m. in the Warch Campus Center cinema. Both events are free and open to the public.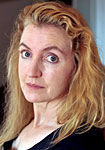 An activist for ecological and human rights issues, Solnit is the author of 12 books, among them "Hope in the Dark: Untold Histories, Wild Possibilities," "Wanderlust: A History of Walking" and 2004's "River of Shadows: Eadweard Muybridge and the Technological Wild West," a historical tour de force that has been hailed as one of the best books of the past decade.
In her most recent book, 2009's "A Paradise Built in Hell: The Extraordinary Communities that Arise in Disaster," Solnit offers an investigation of human emotion in the face of catastrophe. She explore the common citizen responses of empathy, spontaneous altruism and mutual aid, which turn out to be more typical than the conventional perception of violence and selfishness, in the face of such disasters as the 1906 San Francisco earthquake, the 9/11 terrorist attacks and Hurricane Katrina.
A contributing editor at Orion Magazine, the San Francisco-based Solnit has been recognized with two National Book Critics Circle Awards and the Lannan Literary Award for Nonfiction. She has been awarded grants from the Guggenheim Foundation and the National Endowment for the Arts.
Solnit serves as contributing editor to Harper's magazine and writes for the "London Review of Books" and the political website Tomdispatch.com.