David Hawkanson, executive director of Chicago's award-winning Steppenwolf Theatre, discusses the challenges facing arts organizations and his efforts to strengthen the arts in urban communities Monday, April 19 at 4:30 p.m. in the Warch Campus Center.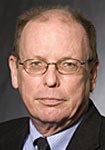 A 1969 graduate of Lawrence, Hawkanson presents "The Business of the Arts: How a Non-profit Arts Organization Navigates the Business and Government Sectors." The event is free and open to the public.
Hawkanson has spent more than 35 years in arts management, including the past seven as executive director at Steppenwolf Theatre. In 2008, Steppenwolf's production "August Osage County" won four Tony Awards, including Best Play.
Prior to joining Steppenwolf Theatre, Hawkanson spent six years as managing director of Minneapolis' Guthrie Theater. His distinguished career includes positions as managing director at the Hartford Stage Company, which received a special Tony Award for outstanding achievement in regional theatre during his tenure and managerial posts with the Arizona Theater Company and San Francisco's American Conservatory Theater.
Hawkanson also has served as artistic advisor to the Kennedy Center Fund for New American Plays, a program committee member for the National Arts Stabilization Fund and a panelist and advisor to both the Ford Foundation's Working Capital Fund and the Minneapolis Foundation's Working Capital Reserve Fund. He is a former senior staff member at the National Endowment for the Arts and a former chairman and panelist for the theatre program of the NEA.