The "hits" keep coming for Lawrence University historian Jerald Podair's 2017 book "City of Dreams: Dodger Stadium and the Birth of Modern Los Angeles."
"City of Dreams" has been named the winner of the Society for American Baseball Research's (SABR) 2018 Seymour Medal as the best book on baseball history or biography published in the preceding year. Podair will be honored March 3 at the SABR banquet in Tempe, Ariz.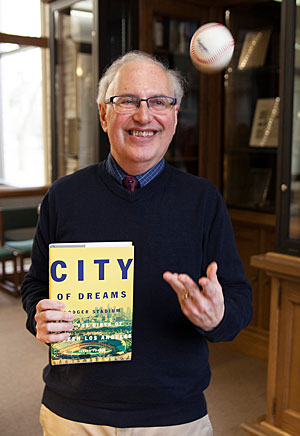 Previously longlisted as one of 10 semifinalists for a 2018 PEN/ESPN Award for Literary Sports Writing, "City of Dreams" also has been shortlisted and is now one of five finalists for the award, which will be announced Feb. 20 at the PEN America awards dinner in New York City.
Podair learned of the PEN/ESPN finalist selection and the SABR award on the same day only hours apart.
"I received the PEN/ESPN news in the morning, told my wife and went to school. I heard about SABR later that day. I came home and said, 'you're not going to believe this,'" said Podair, the Robert S. French Professor of American Studies at Lawrence. "Both of the honors came as very gratifying surprises. I don't write books to win awards, but it's wonderful to know what I'm writing is having an impact."
The Seymour Medal Selection Committee hailed the book as "a superb historical monograph based on extensive, original research and brilliantly written. Podair delineates clearly the connection between the decision to build Dodger Stadium and the intricate machinations and alliances of urban politics."
"City of Dreams" was selected over four other finalists: "Casey Stengel: Baseball's Greatest Character" by Marty Appel: "The Streak: Lou Gehrig, Cal Ripken Jr., and Baseball's Most Historic Record" by John Eisenberg; "Home Team: The Turbulent History of the San Francisco Giants" by Robert Garratt and "Bloomer Girls: Women Baseball Pioneers" by Debra Shattuck.
Awarded annually since 1996, the Seymour Medal recognizes a book that significantly advances knowledge of baseball and is characterized by understanding, factual accuracy, profound insight and distinguished writing.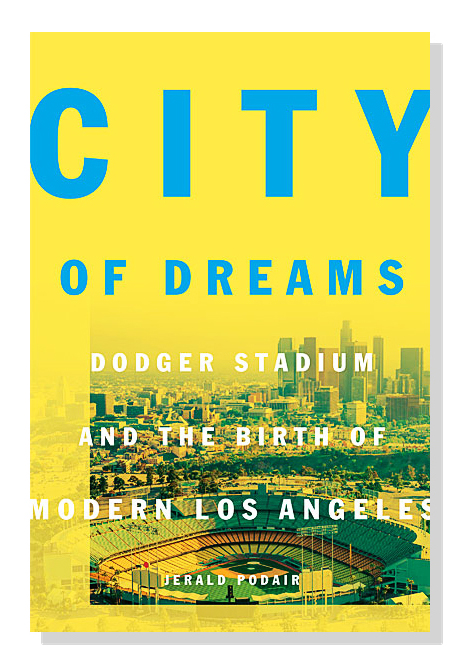 Joining "City of Dreams" as a finalist are "Ali: A Life" by Jonathan Eig; "The Arena: Inside the Tailgating, Ticket-Scalping, Mascot-Racing, Dubiously Funded, and Possibly Haunted Monuments of American Sport" by Rafi Kohan; "Sting like a Bee: Muhammad Ali vs. the United States of America, 1966–1971" by Leigh Montville and "Bones: Brothers, Horses, Cartels, and the Borderland Dream," by Joe Tone.
The PEN America awards honors writers and translators whose exceptional literary works were published in 2017. Categories include fiction, nonfiction, poetry, biography, essays, science writing, sports writing and translation. The winner in the sports-writing category receives a $5,000 prize.
In "City of Dreams," Podair explores one of the earliest owner-city new ballpark negotiations and the subsequent economic and cultural impact. He wrote the book to provide a window into the complex choices cities face as they seek to balance the values of entertainment and culture against those of fiscal responsibility, of private gain against public good.
About Lawrence University
Founded in 1847, Lawrence University uniquely integrates a college of liberal arts and sciences with a nationally recognized conservatory of music, both devoted exclusively to undergraduate education. It was selected for inclusion in the book "Colleges That Change Lives: 40 Schools That Will Change the Way You Think About College." Engaged learning, the development of multiple interests and community outreach are central to the Lawrence experience. Lawrence draws its 1,500 students from nearly every state and more than 50 countries.