The power of words for good and ill are explored in the Lawrence University Theatre Arts Department's production of one of Shakespeare's most popular comedies.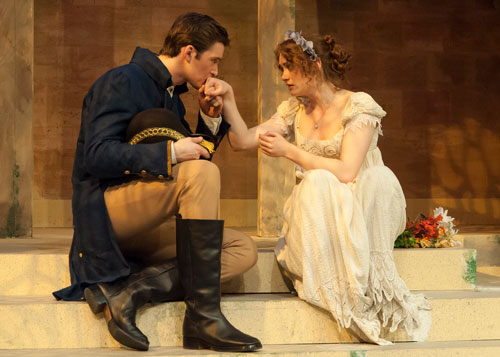 Four performances of "Much Ado About Nothing" will be staged in Cloak Theatre Feb. 18-20 with an 8 p.m. show each night and an additional 3 p.m. matinee on Saturday, Feb. 20. Tickets, at $15 for adults, $8 for students/seniors, are available through the Lawrence Box Office, 920-832-6749.
Written around 1598, within a few years of "As You Like It" and "Twelfth Night," the play's most well known story features  Beatrice and Benedick, bantering foes who are tricked into falling in love with each other by their well-meaning friends.
It chronicles the almost fairytale world of reunion, celebration, barbarous wit and mischief when Benedick and his fellow officers return from a successful battle and turn their attentions to pleasanter, more domestic matters. That witty world comes crashing down into a still comic, but gentler and more complex reality, where words cause real pain and communicate real love.
According to director Kristin Hammargren, the production is set in Regency England (1811-1820) in order to provide an appropriate context.
"Regency England is a time period that gives us the class distinctions, structured polite society, appreciation for conversation and even the military element (the Napoleonic Wars) that this play needs," said Hammargren, a 2008 graduate of Lawrence, now a professional actor and teaching artist who is spending Term II at her alma mater as a visiting instructor of theatre arts.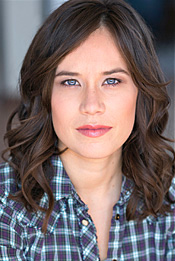 In her writing about the production she notes the production she envisioned is just as important for the coherence of the play as it is for the benefit of the student actors.
"Here you see an environment crafted for the imagination and play of young theatre artists," Hammargren wrote. "History gives us a setting and a mood, Shakespeare gives us the story and poetry and the students give it all life."
Olivia Gregorich, a junior from Greenwood, plays Beatrice while Kip Hathaway, a junior from Nimrod, Minn., plays Benedick. Senior Aiden Campbell, from Fort Collins, Colo., is cast as Claudio while freshman Ming Montgomery, from Minneapolis, Minn., plays Hero.
After graduating from Lawrence, Hammargren earned a master of fine arts degree from the University of Wisconsin-Madison. She has worked with several Shakespeare festivals, including the Oregon Shakespeare Festival, Montana Shakespeare in the Parks and Door Shakespeare in Wisconsin. She created an original one-woman show entitled "Discovering Austen," which she performs regularly throughout the Midwest.
About Lawrence University
Founded in 1847, Lawrence University uniquely integrates a college of liberal arts and sciences with a nationally recognized conservatory of music, both devoted exclusively to undergraduate education. It was selected for inclusion in the book "Colleges That Change Lives: 40 Schools That Will Change the Way You Think About College" and Fiske's Guide to Colleges 2016. Engaged learning, the development of multiple interests and community outreach are central to the Lawrence experience. Lawrence draws its 1,500 students from nearly every state and more than 50 countries.