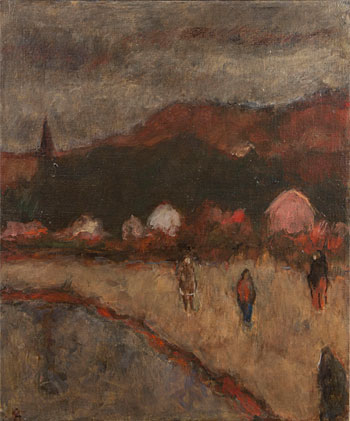 Lawrence University's fifth annual summer exhibition series at the Wriston Art Center Galleries features works by painter Joseph Friebert from Lawrence's own permanent collection.
The exhibition opens July 13 and runs through Aug 19. A 20-minute guided Art @ Noon tour of the exhibition will be conducted July 19.
The Wriston Art Center galleries are free and open to the public Tuesday-Friday, 10 a.m. – 4 p.m.; Saturday-Sunday, noon – 4 p.m.; closed Mondays.
Friebert, who died in 2002, used glazes and varnishes that allowed light to reflect back and produce a luminous effect in his work, reminiscent of Old Master techniques. His work often represents social concerns, a byproduct of growing up the son of a tailor and union organizer in a working class Jewish family. Having experienced the Great Depression, two world wars and the Cold War, much of his art is permeated with a sense of loss, sadness and vulnerability.
"Although Friebert's artwork is often subdued in its tone and subject matter, he presents us with a vision of the world that is both contemplative and rendered with intense feeling," said Beth Zinsli, director and curator of the Wriston Art Center Galleries. "A viewer will come away from his paintings with a new perspective on the urban landscape and its inhabitants."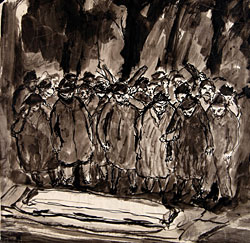 Born in Buffalo, N.Y., in 1908, Friebert and his family moved to Milwaukee when he was still an infant and he spent the rest of his life living there. Working as a pharmacist by day, he also took art classes at the Layton School of Art. He eventually earned a degree in art education from the Milwaukee State Teacher's College in 1945 and a master of fine arts degree from UW-Madison. He joined the faculty at MSTC (now UW-Milwaukee) in 1946 and taught there until his retirement in 1976.
The Wriston Summer Exhibition Series is an annual program intended to engage the Fox Valley community in conversations about artworks and artists of the Midwest.
The Friebert exhibition is made possible by the Joseph and Betsy Ritz Friebert Family Partnership, the Kohler Foundation, Inc., and other generous donors who have contributed to Lawrence's permanent collection.
About Lawrence University
Founded in 1847, Lawrence University uniquely integrates a college of liberal arts and sciences with a nationally recognized conservatory of music, both devoted exclusively to undergraduate education. It was selected for inclusion in the book "Colleges That Change Lives: 40 Schools That Will Change the Way You Think About College."  Engaged learning, the development of multiple interests and community outreach are central to the Lawrence experience. Lawrence draws its 1,500 students from nearly every state and more than 50 countries.