A great deal of interesting student research happens in the Mudd Library over the school year as well as the summer. William Gislason was kind enough to share a bit about the innovative project he has been working on in the library this summer. We were happy to help him out by providing a student office, research materials, and use of one of the library's iPads.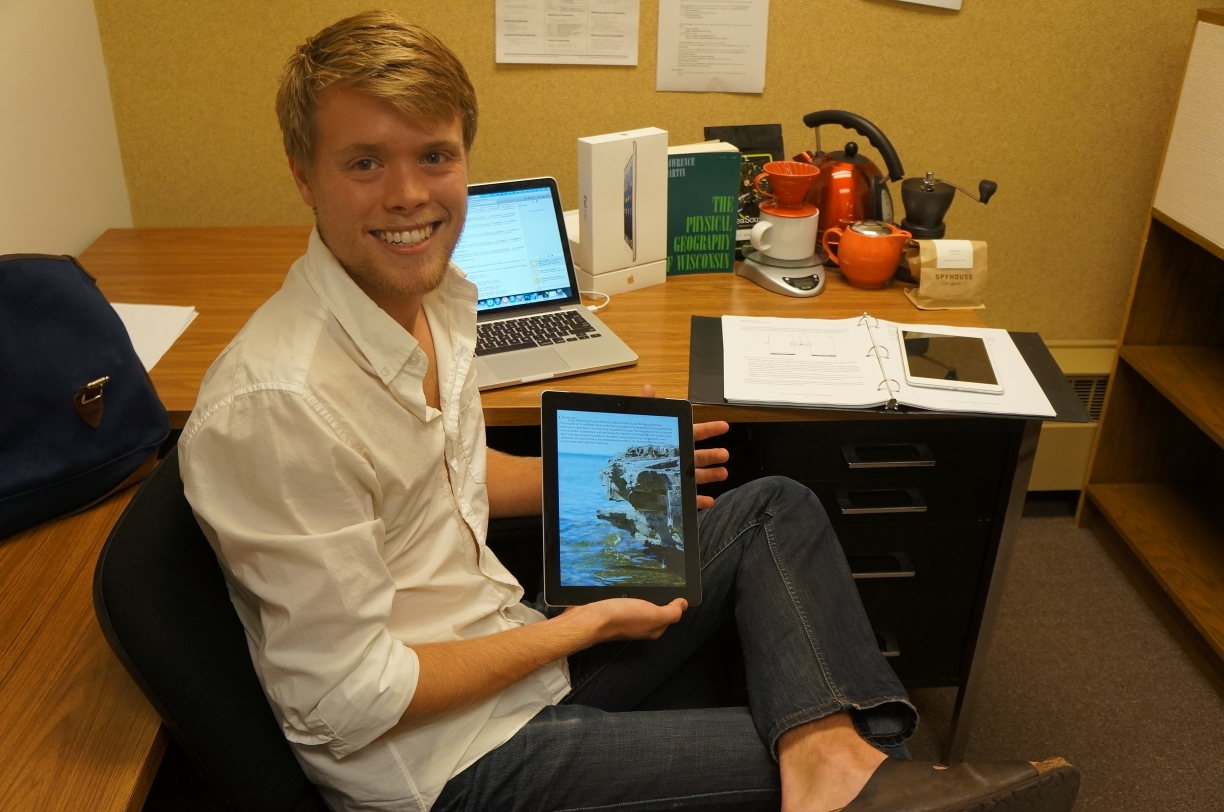 My summer project – William Gislason
When I entered Lawrence, I had no idea what major I would choose much less what career options I was interested in. While in St. Paul, Minnesota, I held a series of odd-jobs during which I worked at a hardware store, a Christmas tree lot, a garden center, as well as a coffee shop. At Lawrence, I even assisted an Ecology professor with her research. I finally focused enough to choose Biology and Environmental Studies for my double major and I knew I would need a summer job related somehow to this field. As I reflect about my time at Lawrence before starting my senior year, it's clear I've learned a lot from each position but I've realized that I've learned more in this past summer than ever I thought possible.
Over the past three months, I've had the delight of making my first iPad app. Under the direction of the Biology department's Bart De Stasio and Alyssa Hakes and the Director of Björklunden, Mark Breseman, along with the assistance of Celeste Silling, I'm attempting to provide the visitors of Björklunden with much of the information about the area's ecology one would learn in a guided nature tour. To accomplish this, I'm building an app that displays the visitor's location upon a trail map along with the location of interesting ecological features. Pictures and information on these features can be accessed by simply tapping the feature on the map. I've been so fortunate to not only have an office in the library to use as a base of operations for the project but to have the literary resources of the library to learn about the geography, ecology, and natural history of Door County and Wisconsin.
Though this project involves long hours of coding I have learned a ton about photography, writing, design, and planning a user experience. I consider myself so lucky to have been given this opportunity by Lawrence University and I hope the app will be a simple, educational, and delightful addition to the many services for the guests of Björklunden. Starting this fall, we'll have 3 iPads for visitors to rent from Björklunden to experience their own person tour of Björklunden. Be sure to check it out!