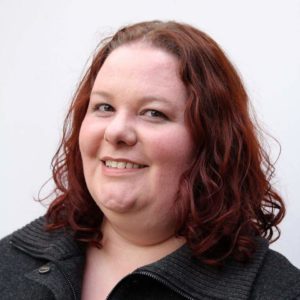 Editor's note: We invited Lawrence alumni who have gone into library work to share with us what they do and how they got there.  Here's another in a series. 
From the time I was a little kid, I've always said I wanted to be a cellist and if I wasn't a cellist, I would be a librarian, but it wasn't until much later that I realized I could do both. Starting at Lawrence, I knew I wanted to do the dual degree program and I wanted to work in the library. On my second day on campus, I went to the library to ask about a job and inquired politely every day until they hired me. I worked at the circulation desk all five years and loved it, particularly the late night closing shifts. I graduated from Lawrence with a B.M. in cello performance and a B.A. in English.
After Lawrence, I went on to Roosevelt University to get a M.M. in cello performance and again found myself working in the library. I had a part-time job in the music library and also a graduate assistantship that turned out to be mostly an orchestra librarian position. I spent hundreds of hours making practice parts and copying bowings, but I found it was a lovely respite from the stress of preparing for my lessons and performances each week.
Over the next 5 years, I built a successful music career, primarily teaching at the Music Institute of Chicago and in the Naperville school districts. I worked my way up to a full teaching load of 40-50 students per week and had enough freelance performance opportunities to keep me satisfied. I was proud of what I'd accomplished, but I was also not entirely happy with where my life was headed. I was spending 15-20 hours a week in my car and the pressure to be "on" all the time was exhausting. It didn't feel like a sustainable way to live, but I had spent 20 years working toward this goal, so it was hard to imagine a life that didn't have cello at the center of it. As I considered my options, I kept coming back to how much I'd loved working in the library at Lawrence and then later at Roosevelt.
I reached out to Antoinette Powell and Cindy Patterson at Lawrence, since I'd been close with them while working at the library and we had stayed in touch. They were both very supportive and just the boost I needed to make the decision to go back to school for a second masters and become a librarian. I enrolled at UW-Milwaukee's School of Information Studies in 2010 and finished my Master of Library and Information Science degree in 2012.
Even with all of my prior library experience, it took some time to get my first post-MLIS job. After years of hearing I needed a backup plan if I was going to be a musician, the irony of having cello as my contingency plan was pretty funny. Eventually, I got my first job as a music cataloger at Roosevelt University. It was just a three month temporary position, but it helped me decide that my interests as a librarian were not so much music librarianship as I'd assumed, but cataloging, metadata, and technical services. From there, I got a job as part-time cataloger at Moraine Valley Community College.
Initially, I hadn't planned on staying at Moraine Valley for very long given that it was a part-time position, but I quickly realized that it was a wonderful place to work. When a full-time position managing Technical Services opened up, I was thrilled and fortunate to get the job. I've been the Technical Services Coordinator there for about 2 ½ years and it is such a good fit for my skills and interests. As a department manager, I get to do a little bit of everything and have a lot of autonomy. It's never boring, there's always database clean-up work to do, and new problems to solve.
I've also been putting my former teaching skills to work by teaching two college courses: a graduate cataloging course, Organization of Knowledge at Dominican University's School of Information Studies and Introduction to Cataloging for LTA students at the College of DuPage. I also regularly teach some short term continuing education courses for librarians on cataloging topics through Library Juice Academy, a professional development site for library staff. And, of course, I still play the cello, but now it's mostly for fun.
It may have taken me a while to figure out this is the career for me, but it's really the process to get here that made it possible. I think many of the skills that have helped me to be a successful librarian, manager, and college instructor are directly attributable to skills I developed and honed as a musician. For any Lawrentian considering pursuing a career in librarianship, I would encourage them to try to get some library experience before completing their degree. I'd also recommend while in library school to take classes in both reference and cataloging, even if you're sure you only want to work in one area or the other. Some schools no longer require students to take them, but even if you don't end up in a position where you use either routinely, they will still help you be a better librarian. And finally, be flexible and open to the opportunities that come your way as you may be surprised at where your interests and experiences will lead.
By Natalie Hall, Class of 2005