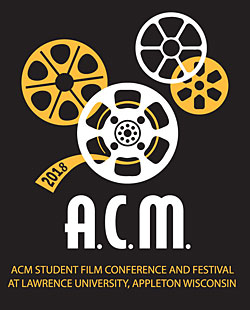 The creative vision and unique perspectives of college-age aspiring filmmakers and screenwriters will be showcased April 20-22 as Lawrence University hosts the second biennial Associated Colleges of the Midwest Film Festival.
More than 75 films, including 12 by Lawrence student filmmakers, will be screened in 90-minute blocks in Lawrence's Warch Campus Center cinema and the Wriston Art Center auditorium beginning Friday, April 20. The films selected for the festival were drawn from more than 150 submissions from students at 10 ACM colleges.
The festival's films span genres ranging from documentaries and narratives to animation and experimental, as well as music videos. Some films are less than a minute in length, others nearly an hour. A complete schedule of all festival activities, including film screenings, can be found here.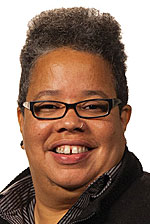 "We are really excited about this year's festival in part because we got almost double the submissions from the first time around," said Amy Ongiri, Jill Beck Director of Film Studies at Lawrence.  "The other thing that's exciting is we received a lot of repeats, so students were excited enough to participate twice. The quality of work is really incredible."
A discussion on the backgrounds of the festival's guest judges — actor Garrett Brown, artist/experimental videographer Cecelia Condit, videographer/video blogger Alexis Pauline Gumbs and animation filmmaker Deanna Morse kick things off Friday at 6 p.m. in the Warch Campus Center.
Condit (1:15 /"A Few Short Videos") Morse (2 p.m./"An Animator's Journey"), Brown (2:45 p.m./"How To Make it SMALL in Hollywood") and Gumbs (3:30 p.m./"The Most Effective Way To Do It: Black Feminism and Film") also will conduct special presentations Saturday afternoon in the Wriston Art Center auditorium.
Brown performs his original one-man show "What's Funny in a Dark Time?" Saturday at 9:15 p.m. in Cloak Theatre.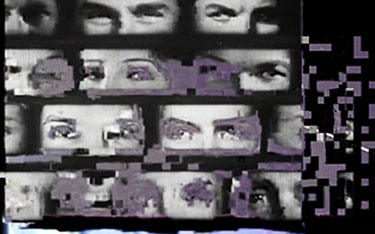 The judges, in conjunction with faculty and students representing ACM schools, will select films for a variety of categories, including Best of the Midwest, Social Impact, Cinematic Artistry, Out of the Box, which honors original concepts and an Audience Choice Award, which was won in 2016 by Lawrence student Finn Bjornerud for his film "A Moment of Consideration: Townies Skateboarding at Lawrence University."  The awards will be presented in a ceremony on Sunday afternoon.
While admitting a bit of bias, Ongiri says the ACM Film Festival would hold its own against any student film festival in the country.
"We really have some excellent film programs in ACM, so the work is comparable to any that you'd see in any festival of this type. I would say it even better, having been to many of those festivals," said Ongiri. "It's an exciting chance to see a wide variety of really excellent films. We have something for everybody. If you are interested in films, or just interested in having a good time, this is really an opportunity to experience something that only happens once every two years."
The festival is more than just films. It also includes research with student scholars presenting papers on Sunday morning on topics from a variety of theoretical, cultural and historical approaches to film studies and visual culture. Students were also encouraged to submit original screenplays for the festival. Brown and Lawrence theater students will perform a live reading of the winning screenplay and the two honorable mentions as determined by the judges Sunday morning in Cloak Theatre.
"That's always a very exciting and interesting part of the festival," said Ongiri, "because it not only showcases the screenplay that won, but also Lawrence students who are in an acting class."
Lawrence students whose films are scheduled to be screened at the festival include works by by freshman Kanyon Beringer, Menasha, junior Lukasz Dziewiatkowski, Chicago, Ill., sophomore Lily Greene, Madison, senior Liam Guinan, Elmhurst, Ill., junior Jeffrey Ryan, North Barrington, Ill., junior Ali Shuger, Batavia, Ill., sophomore Tien Tran, Hanoi, Vietnam, and 2017 graduate Finn Bjornerud, Appleton (films made while they were still students were accepted for the festival).
About Lawrence University
Founded in 1847, Lawrence University uniquely integrates a college of liberal arts and sciences with a nationally recognized conservatory of music, both devoted exclusively to undergraduate education. It was selected for inclusion in the book "Colleges That Change Lives: 40 Schools That Will Change the Way You Think About College."  Engaged learning, the development of multiple interests and community outreach are central to the Lawrence experience. Lawrence draws its 1,500 students from nearly every state and more than 50 countries.